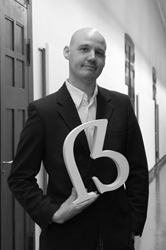 Opentype.info is the weblog of the German designer and author Ralf Herrmann. Currently, this weblog is about topics such as typography, webfonts, signage, wayfinding and spatial cognition.
Ralf Herrmann studied graphic design at the Bauhaus University Weimar. He is the author of several typography books and founded the type foundry fonts.info and the German typography community Typografie.info. With a partner he founded the design studio Seite7 in 1999. Since 2009 he is the editor of the German typography magazine TypoJournal. Currently Ralf Herrmann is doing his PhD at the University of Applied Arts in Vienna. In his dissertation he will research the implications of cognitive map research applied to the design of maps and wayfinding systems.
Additional links
Twitter
Flickr
My personal Facebook account
fonts.info page on Facebook
Webfonts page on Facebook
Wayfinding Sans on Facebook
Spatial Cognition page on Facebook
My Vimeo account
RSS feed of my blog articles
Public Talks
2009: Sign09 Conference, Vienna, Austria; Book Fair Leipzig, Germany;  Forum Typografie, Weimar, Germany
2010: Typo Berlin, Germany; Webfontday Munich, Germany; Typogravieh lebt Symposium, Weimar, Germany
2011: AtypI Reykjavík, Island; Webfontday Munich, Germany; Buchstabenmuseum Berlin, Germany
2012: Publishing Conference Munich, Germany; Tag der Schrift Zürich, Switzerland
Contact
If you want to send me an email: My user name is post and my domain is opentype.info. If you are not a bot, you know what to do.