@font-face survey (results)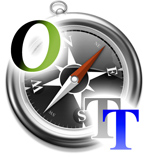 The new font embedding feature introduced with Safari 3.1 has already caused heated debates in the type industry. But what do web designers think about it? Do they want to use it? Will they be willing to pay for webfonts? I did a survey among web designers to find out. Many thanks to everyone who participated!
Here are the results …
What kinds of websites do you design?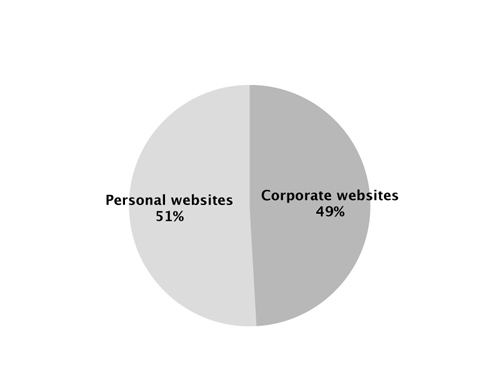 I'm glad the survey wasn't exclusively taken by professional designers, because I think (depending on the price) commercial webfonts may also be interesting for personal websites.
---
What do you think about the @font-face embedding of TrueType and OpenType fonts?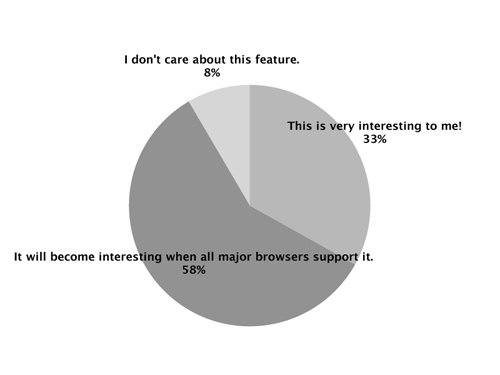 Web designers are used to be limited to system fonts for many years now. Are they even interested in embeddable webfonts? Obviously they are! Only 8 % were not interested. This is a very pleasing result.
---
Are you aware that any commercial font license prohibits the @font-face embedding?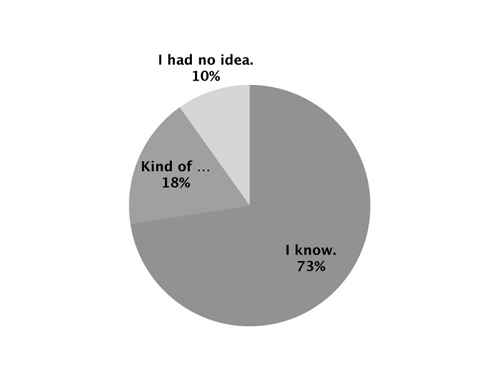 90 % are somehow aware that there is a problem with using commercial fonts with @font-face embedding – 10 % had no idea. I can't quite decide if this is good or bad news.
---
When major browsers support this feature, would you be interested in buying webfont licenses for your homepage?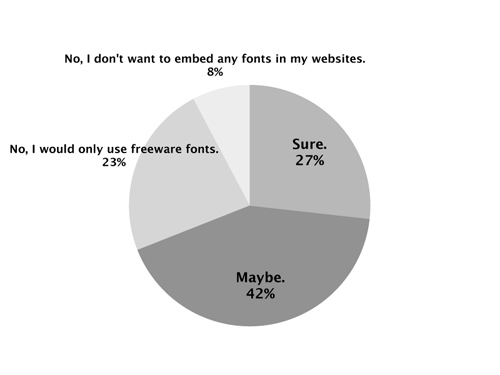 A striking number (69 %) could imagine to buy webfont licenses, when they are widely supported. This is very good news and more than I expected.
---
For security reasons, font vendors would probably want to host the font files on their servers and just give you a link to a CSS file.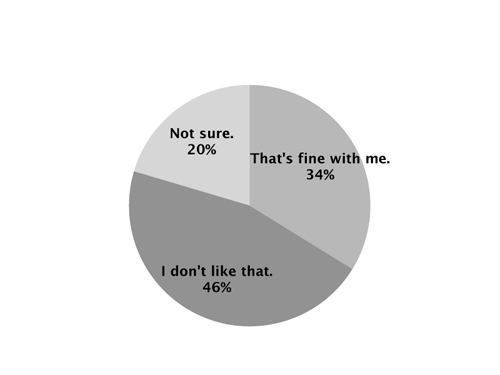 It's not surprising that the majority would like to have the font files in their possession. But I am glad to see that 34 % would also accept a CSS link to the files. I guess the most important thing is that it works all the time and without any hassle for the web designer. For example: The web designers must be able to access the fonts when they develop websites on a local server.
---
Which license model would suit you best?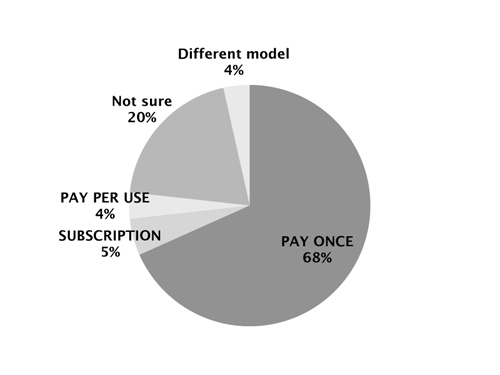 The final question is the one I was most interested in. But the results are very different from what I expected. Maybe I should have explained the different models in more detail or put some price tags on them. This needs to be discussed in more detail in the future. But let's look at the different models:
PAY ONCE: I want to pay the full license at once and use the font on my homepage as long as I want.
This is the model that is used for commercial print fonts. 69 % think this model should also be used for webfonts. I am shocked! Sure, we all are familiar with this model, but is it really the best option? Let's think about it: You have to pay a full license, before you can even try the font. So you are forced to buy a pig in a poke. It may not work for you or your client might reject the font. So even if you never use it, you have paid the full price.
I think, when it comes to webfonts we can do better than that. I offered two alternative models:
PAY PER USE: The price should be based on the number of font downloads. No visitors, no license fee. The more visitors I have, the more I would have to pay.
A license model couln't be more fair than that. You would probably get the font for free and would only have to pay for the actual use of the font. (The views/downloads by the visitors of your website.) So for a personal website you might just pay a couple of cents per month. It's astonishing that only 4 % chose the model which is obviously the fairest of them all.
The problem with this model though might be the uncertainty. You would never know in advance how much you would have to pay at the end of the month.
SUBSCRIPTION: I want to be flexible: I would rather pay a small (fixed) price (i.e. per month) and be able to cancel the subscription any time I want.
This is the model I am favouring, but unfortunately it also just got 5 % in the survey. Let me explain why I think this is a good model. First of all, since the fonts are hosted by the foundry it would be really easy to offer a trial period. You would get a CSS link to be included in your site. You could play with the font (or maybe different ones), present it to you client and when the trial period is over you could decide whether you stop using the font or whether you start paying the monthly fee. And in comparison to the "Pay per Use" model you would always know exactly how much you have to pay. And if you, let's say after 6 months, don't like the font anymore, you could switch to another one or just cancel the subscription.
Here are some additional user comments regarding this question:
"The ability to embed this fonts in the swf-format must be given, also."
Sure!
"offer lifetime flatrates maybe with a maximum of some kind. dont be the music industry."
Not sure, how this could work with fonts. The design of websites usually changes every couple of years, so no one needs webfonts for a lifetime, do they?
"This depends on client and use. Just like print font licensing. If it's a corporate face for a multinational, I imagine subscription."
"A choice of all three. Pay once is most appealing, but there are situations where I would prefer the other licenses."
"The foundries won't make much money out of webfonts. […]"
Well, this reminded me of this quote from 1899: "The ordinary horseless carriage [the automobile] is, at present, a luxury for the wealthy; and although its price will probably fall in the future, it will never, of course, come into as common use as the bicycle."