Kerning and OpenType features in Firefox 3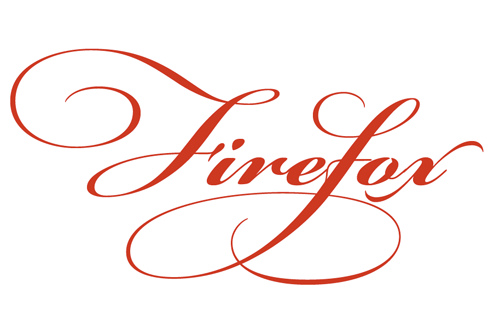 Firefox 3 will be the first major browser with support for kerning and automatic ligatures. I tested the Firefox 3 release canditate and I have to say, it's not perfect yet. But first the good news:
Kerning
Kerning is an important feature in print typography but for most of the (rather small) texts we read on the screen it is no big deal. But for larger headlines and print-outs it's really nice to have support for kerning. See this comparison between Safari 3 and Firefox 3: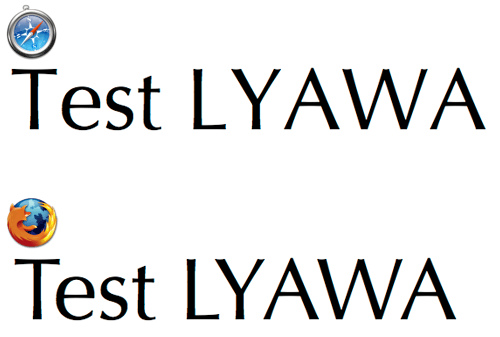 The Webkit developers claimed they have turned off kerning to avoid performance issues. But Firefox proves it can work.
Layout Features
Firefox 3 supports a few layout features of fonts with OpenType or AAT (Apple Advanced Typography) tables. The most obvious one is basic ligatures. In this example you can see the typical f-ligatures that are common in latin fonts and are now used by default in Firefox 3, if the font supports this feature.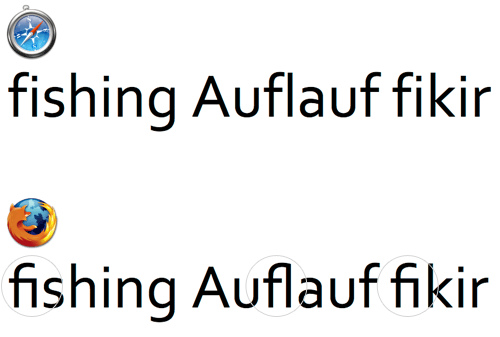 This is nice for webpages in English, but it doesn't work in all languages. For example, in German the use of ligatures depends on the words. "Auflauf" is a word where a ligature is wrong. In Turkish such ligatures are not used at all because they would lead to confusion between the characters "i" and "dotless i". The logic for dealing with those exceptions is usually built into the OpenType fonts, but Firefox doesn't honor them.
Discretionary ligatures are optional ligatures. The application should turn them off by default and the user might activate them for setting a fancy headline. Unfortunately, Firefox has turned them on by default and this could really mess up the body copy of websites.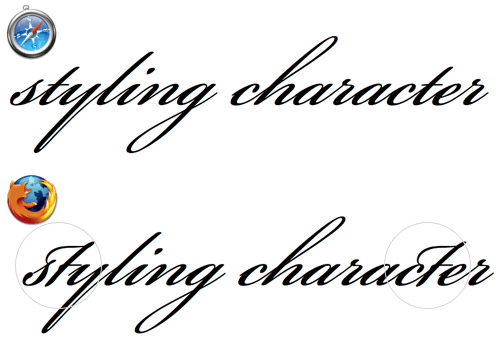 But it gets worse: Firefox 3 also applies ligatures that are only valid in a special context, for example the end of a word.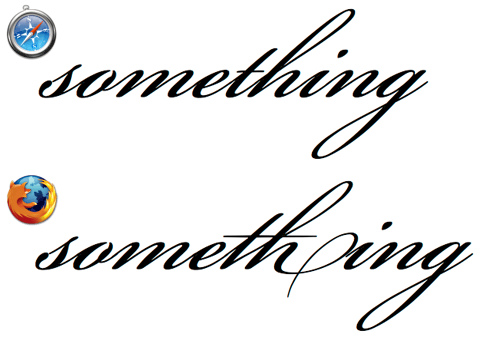 Firefox doesn't seem to check for context-dependent replacements. Which is a great pity, because this is the real power of OpenType layout features. See this next example: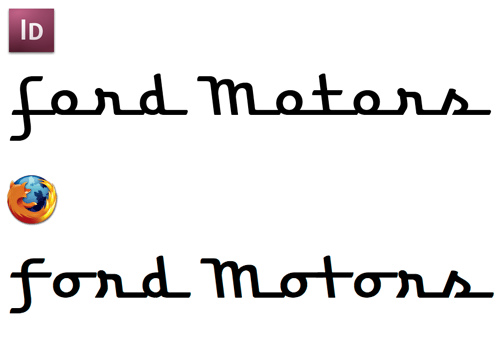 A script font like that relies heavily on contextual replacements. Without support for Contextual Alternates and Contextual Ligatures such a font is almost useless. Most standard system fonts may not require such OpenType features, but when downloadable webfonts will someday be available in Firefox those features will hopefully be supported.
The kerning support will hopefully set an example. But the current use of OpenType features in Firefox 3 is rather disappointing. When ligatures are thrown in that are wrong in the used context or language, I would rather see no ligatures at all.