Wayfinding observations: Separation slows down perception
Wayfinding signs can have various shapes and layouts. For example, German road signs fall in one of those four categories:
The amount of separation increased on these sign types. On the first sign, all targets are presented together, on the last sign, every  target has its own sign. But which one is most effective? On which sign can we find our target as fast as possible and without making mistakes?
In his diploma thesis Dr. Raoul Bell researched this problem. He conducted a series of tests: In one of the tests probands were presented with signs like these and should look for a certain word and also state the direction of this target.

The study found that the type of sign significantly influences the time we need to find the target. When all information were presented on one sign and without any separation, the targets could be found much faster. Bell argues that we perceive these objects as groups and only one group can have our attention at a time. So if the information is split into several groups we need to shift our attention from one group to the next, thus need more time to perform this task.
This corresponds to my experience when using road signs. I am used to the very clean and unseparated motorway signs in Germany, but for example these separated French road signs make it really hard to find a target.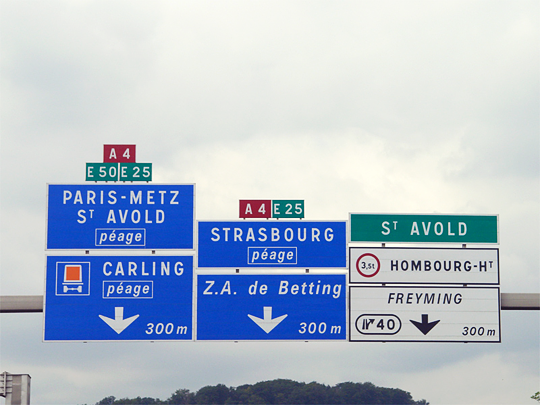 Of course these findings are by no means limited to road signs. They are valid for any kind of signage. So wayfinding designers should carefully think about how many separating signs, lines, boxes and colors are really necessary.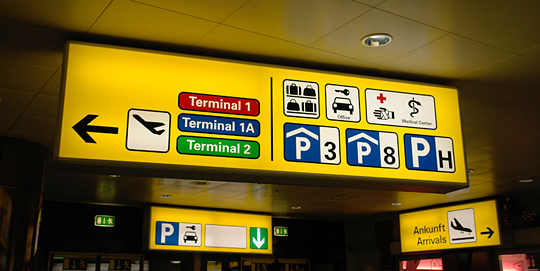 The full research paper (German only) is available here: Objektbasierte visuelle Aufmerksamkeit: Relevanz für das Design von Verkehrsschildern
.